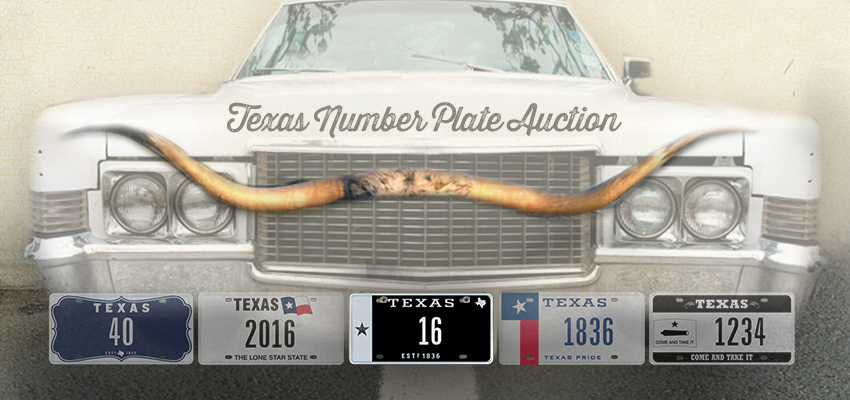 Number Plate Auction: April 27 – May 10, 2016
In the early days, license plates were issued to register all "horseless carriages" with the issuance of a license plate number. The first license plate in Texas was issued during the summer of 1907. Back then, all vehicles or machines had to be issued a license plate number in order to legally use the public roads, streets or driveways.
Now, My Plates, is auctioning for the first time a limited release of historic Texas license plate numbers. My Plates will be offering 25 rare license plate numbers during Texas' first ever Number Plate Auction commencing April 27th, 2016. The auction will run through May 10th. Register your interest now in Texas' first Number Plate auction.
REGISTER YOUR INTEREST IN SELLING YOUR PLATE AT AUCTION!
Do you own a desirable plate message? Is your plate message valuable? Would you be interested in selling your plate via a My Plates auction? If "yes", then please click the button below.
Welcome!
My Plates' Auctions offer Texans a unique opportunity to purchase a coveted selection of reserved and sometimes never before released plate messages.
My Plates was given authority by the Texas legislature to auction these types of plate messages to help raise money for the Texas General Revenue Fund, which helps pay for services for all Texans.
Auction plate messages are highly sought-after and attract a great deal of attention from the media and public alike.
To receive updates about all of our auction events, sign up for our periodic newsletter - PL8 NEWS. In addition to providing you with the latest information on My Plates' auctions, PL8 NEWS will give you exclusive offers and keep you informed about new plate designs, plate releases, events, surveys, stories, and more.
Why Buy at Auction?
Opportunity to purchase a truly exclusive plate message from My Plates' reserve collection.
First right of renewal at the state's everyday pricing, which means you can keep the plate message for as long as you choose to renew it.
Auction plate messages are fully transferable. Not only can they be transferred from one vehicle to another, but also person to person, such as parent to their children or friend to friend. The plate message owner also has the right to sell the plate message to another person with the same ongoing rights. As a result, these plate messages could be an excellent investment.
Peace of mind, knowing that you're purchasing your official Texas license plates from My Plates, the authorized specialty plate vendor for the Texas Department of Motor Vehicles.
Supports the Texas General Revenue Fund.
To read the Auction Terms and Conditions, click here.
Fun Facts
sold for $115,000 in September 2013, making it the most expensive plate message in Texas.
sold for $25,000 in January 2013.
sold for $16,500 in January 2013.
sold for $15,000 in January 2011.
sold for $11,500 in January 2011.
sold for $10,250 in March 2016.
sold for $4,300 in November 2015.
sold for $3,000 in December 2013.
sold for $2,600 in November 2015.
sold for $2,000 in January 2011.